Clothing is a part of the proprieties of golf. Most golf courses have a dress code that asks for specific clothes for all golfers. These dress codes are set to make sure that amateur golfers comply with certain etiquette aiming to maintain the tradition of golf. Other than looking for the best golf clubs for beginners, golf attire is an important thing a beginner golfer should be aware of before starting a great golf experience at any course. It is always useful to check the attire etiquette with management team before joining a course.
Shirts
In almost every case, the management of the courses will ask male golfers to wear shirts with collars. A majority of golf shirts are made of cotton, polyester and microfiber.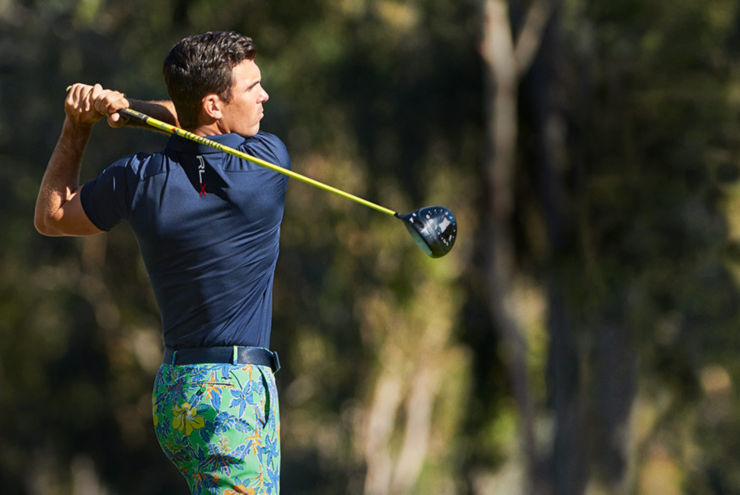 Turtleneck golf shirts are permitted as well at a few courses. Golf tops for females come in a variety of form, with collars or collarless, but all firmly stick to the high sense of modesty. Neither men nor women are permitted to wear T-shirts, halter or tank tops.
Shorts and Pants
Knee length shorts or pants with a flat or pleated front are widely accepted by most golf courses especially in condition of warm weather. Common fabric chosen for golf shorts is cotton and khaki. Similar fabric is popular for golf trousers as well, but not necessarily required. Today, many golfers select pants made of water-proof fabric. Trousers are usually designed without cuffs, which can easily gather grass and dirt. Bottoms made from denim are usually not permitted. For women, there are a wide range of choice for golf bottoms including trousers, capris, skorts (combination of skirt and short), and golf skirts. Workout or athlete shorts are considered inappropriate for both male and female.
Shoes
Footwear is regarded an important equipment for the game as a golfer walks an average of roughly 4 to 5 miles in a golf round, and spends around 4 to 5 hours on his feet. A good pair of golf shoes will stabilize the swing and offer players comfort during a several-hour-round. A major of golf shoes are designed with spikes on the soles. Many golf courses now ask for non-metal spikes only which are usually made of rubber or plastic. Besides, different types of sport shoes which seem to similarly give stability and comfort are not allowed. Sneakers and athlete shoes are occasionally permitted on some courses, not all the time. Casual shoes, sandals and boots are not accepted by most of golf courses.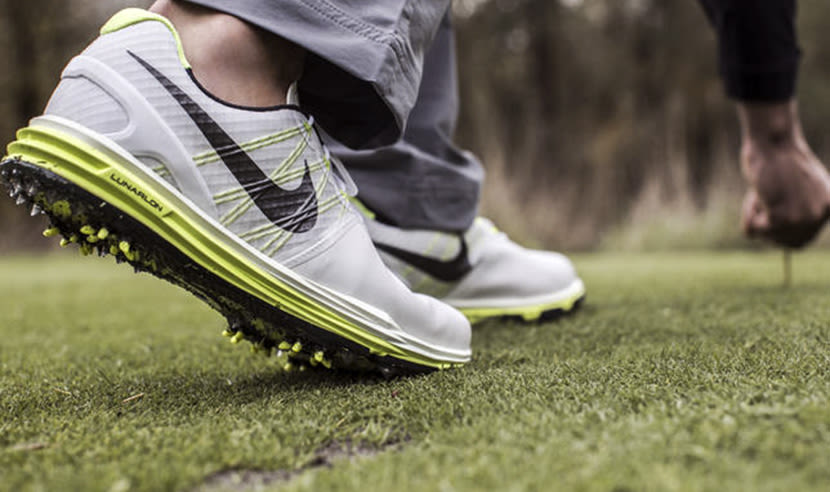 Socks
Golf shoes need to go with socks like any other sports footwear. Over time, socks become more important in golf dress code that is resulted from advances in material that efficiently keep golfers' feet dry and comfortable. These socks are manufactured in various styles. Golfers wearing shorts usually pick a pair of ankle length socks. Furthermore, traditional tube-style socks are allowed as well. Despite the fact that socks are usually not specified in dress code, there is unspoken etiquette asking players to wear socks that is suited their outfit.
Hats
Although golf hats are often not specified in golf attire proprieties, some certain types of hat are more suitable than others. Caps, visors or baseball style hats, for both male and female, are the most popularly used in golf. Their basic function is to protect players against the sun. Straw hats and crocheted caps are accepted as well while cowboy hats, fedora hats, or gag hats are often considered inappropriate on golf courses.
Cold Weather
Under cold weather, sweater, golf jacket and vest are common choice. These items are not only lightweight but also well keep golfers against wet or cold weather.
My name is Mark Parker and welcome to my world. You can find a lot of experience in golf here as I am a golf lover and my life is just about golf. I often search information and learn from other people who have the same hobbies with me.