Laying tile is not just for the professional.?There are many different skills, techniques, and tricks to the trade. It can be very satisfying when you learn the necessary steps and tile an area of your home by yourself!
There are many different skills and techniques used when doing a tile project.?The first step in learning how to lay tile is actually picking out the tile you would like to use. You should plan ahead and figure out what kind of pattern or overall look you are trying to create.?You should also figure out details such as whether or not you will use any accent tiles or what particular areas you are planning to tile.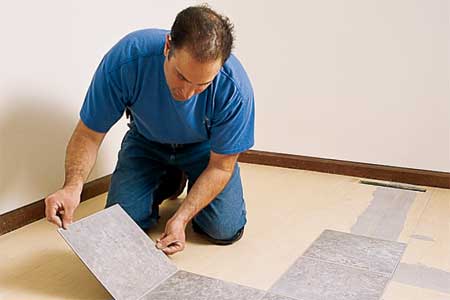 Tile size is an important detail to take into consideration.? Large tile in a small space will overpower the area and make that particular area appear smaller.?On the other hand, too small of a tile can make the area seem busy and will also create a cleaning nightmare.?Your tile size should be adjusted for where and/or what you are tiling.
The most important part of laying tile is making sure the surface you are tiling is solid and even.?You do not want to tile over a surface which moves or is not even and flat. A moving surface will cause the tile and grout to crack. This will lead to many headaches and can be costly on your wallet.
The most overlooked part of laying tile is the dry fit and layout.?You want to dry fit your tile as to center the pattern in the area you are tiling.
Centering the tile will create a balanced and symmetrical look.?You should make sure you center everything from top to bottom and also from left to right.
There is one special consideration to take into account when doing this however.?You do not want to have really small pieces of tile down low next to a tub or shower. The smaller a piece is the more likely it is to fall off the wall because there is less adhesive holding it in place.
Choosing the right thin set mortar or another adhesive for your tile project is important. There are different adhesives or mortars for different types of tile and also for different applications.
The premixed adhesive is great for wall tile.?You should use a thin set mortar, which is not pre-mixed, for floor tile.?The mortar that you have to mix yourself is typically a stronger adhesive.
It is very important to read the label to see what different materials each adhesive or mortar is designed for. The label will let you know what size trowel to use as well.
The part of learning how to tile that is next is to actually lay the tile.?There are great articles here on how to cut tile, install wall tile, and how to tile a floor by clicking on the links.? These articles will go into greater detail.?They will also give you a good knowledge base to work from when starting and completing your tile project.
The final phase of any tile job is the grouting.?You want to choose the right type of grout. You can learn everything you need to know about grouting ceramic tile as well as other types of tile by clicking the link earlier in this sentence.
There are many great articles listed below that will help you with your project.?There are different methods and techniques for different applications.
Learning the tips and tricks that are specific to the type of tile and also the location of the tiled area before you begin is a great idea.?This will help you tremendously when you actually perform the installation.